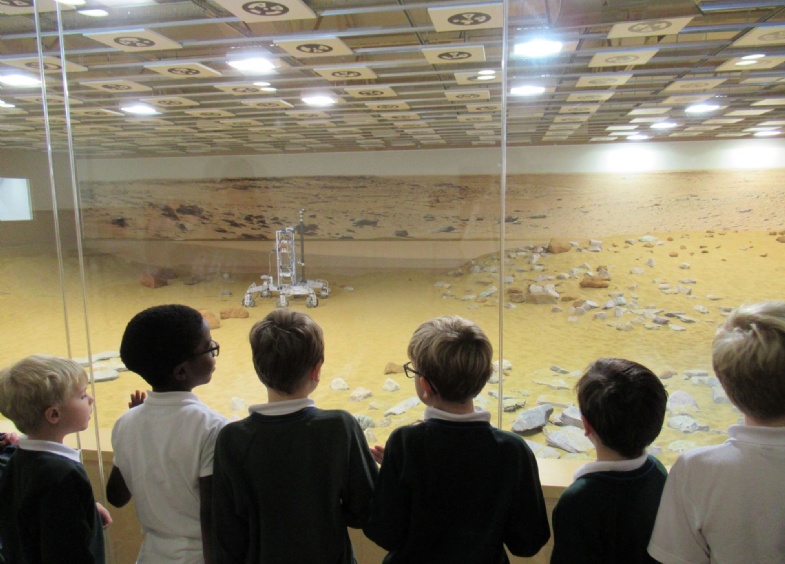 The children enjoyed a fascinating trip to the Stevenage Space Discovery Centre to learn about next year's rocket launch to Mars!
Year 2 travelled to Airbus' STEM Centre in Stevenage, which was opened by astronaut Tim Peake in 2017 and is based around the company's Mars Rover exploration programme. They discovered key facts about the ExoMars Mission to find life on Mars – part of the European Space Agency's wider Aurora programme looking for signs of life in our Solar System. Year 2 were fascinated to see a prototype of a Mars Rover like the one that will be sent to Space in 2020 on a Proton rocket. They heard how the Rover will take 9 months, travelling 30 million miles, to land on Mars and gather samples by drilling 2 metres into the ground. The children were interested to learn about the challenges involved - including the giant dust storms that can obscure the planet for months at a time. A highlight of the day was making their own rockets and launching them sky-high!
They also took part in some fun hands-on STEM activities – a favourite being the challenge to give a grown-up an electric shock from the giant plasma ball! A fantastic demonstration on magnetism expanded their knowledge of their current science topic. Thank you to the charismatic and highly-knowledgeable team at the Science Discovery Centre for a brilliant day out.