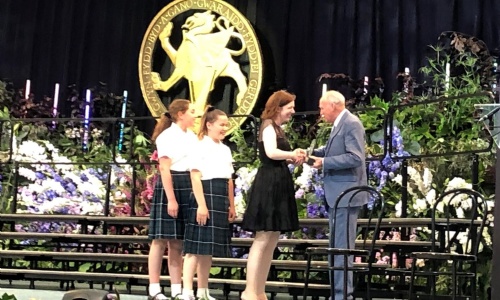 International accolade for our Bax Choir
Bax Choir has been named Children's Choir of The World at the prestigious Llangollen International Eisteddfod 2019. This internationally-renowned singing competition attracts competitors and performers from around the globe and the choir were up against some highly talented choirs from the USA, Canada, Poland, China and Cymru to mention a few.
Led by our Head of Music Cassandra White, who was also awarded the Conductor's Prize for Most Inspiring Conductor, the Bax choir performed a technically-challenging repertoire that also saw them win the Children's Folk Choir Competition. They impressed the judging panel with their beautiful renditions of traditional songs Scarborough Fair and This Old Man. The choir, made up of 43 girls and boys aged 9-12, also performed a haunting Finnish lullaby and A La Cart by Judith Watson, a humorous and delightful song about a little-known incident from Mozart's childhood!