NURSERY
Every day, children enter a rich and vibrant learning environment where emotional well-being is paramount
Children are welcomed into our state-of-the-art Nursery School in Hertfordshire for the term after they turn 3. Please click on this link to read our Nursery Parent Handbook.
From the very start, we encourage children to be investigators and make the most of the beautiful bright indoor and outdoor space. Teachers adopt a child-centred approach to learning and development that allows our youngest pupils to follow their interests and be active thinkers and learners. They begin to collaborate and communicate with friends and think for themselves.
During this first year, we encourage a 'finding out approach' and the environment and routine encourage children to develop their independence, as they make decisions and choices when playing and learning. Whether they are singing in French, or drumming along to a tune as part of a music lesson, we aim to nurture their natural curiosity and spark their desire to learn.
Our Nursery pupils particularly enjoy their timetabled visits to Forest School within our Nursery School grounds, where they learn about the natural world with our own Forest Ranger.
Children attend Nursery for a minimum of five sessions a week. Morning sessions run from 8.45am-12.30pm each day including lunch, with drop-off from 8.20am. Afternoon sessions run 12.30pm until 4.00pm. Families can opt for five full days a week and further Wraparound Care is also available.
Heath Mount's light and modern Nursery provides a stimulating and imaginative learning environment and includes its own private play zone, covered terrace and two classrooms with interactive whiteboards.
We have been very impressed by the caring and attentive staff and fabulous facilities on offer. It has been a wonderful and gentle introduction to school life - Serena, Nursery Parent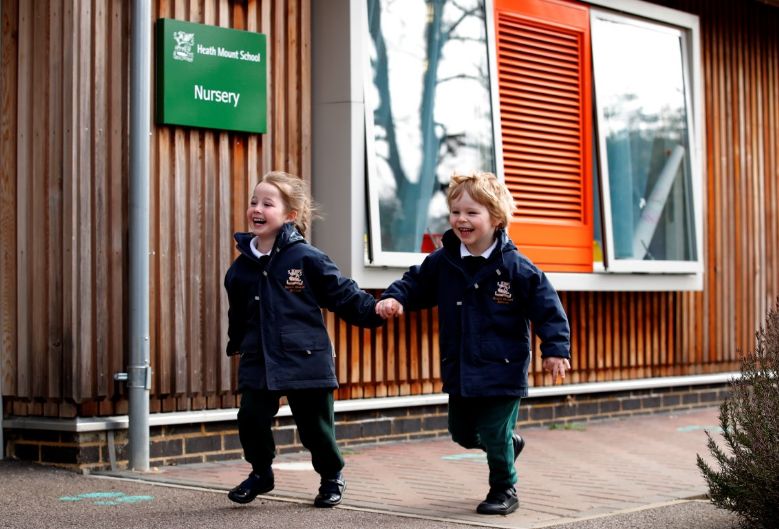 We really appreciate the effort that all the Nursery staff go to, not only to build a relationship with the children, but with the parents and extended family, too - Emma, Nursery Parent