The Heath Mount art department provides exceptional specialist teaching and resources to ensure each child can reach their artistic potential in a wide variety of media. Our hugely successful scholarship record is testament to the talented team of teachers who are so passionate about their subject.
Our art studios are equipped to offer drawing, painting, printmaking, ceramics and creative textiles. The department also has outstanding provision for animation, filmmaking and digital art using apple mac laptops and iPads.
Pupils are encouraged to use a sketchbook regularly and are set tasks related to projects studied. They explore a broad curriculum that stimulates imagination and develops visual, tactile and sensory experiences, providing a unique way of understanding and responding to the world around us. The department regularly organises specialist workshops trips to galleries as well as welcoming visits from inspirational artists.
Children can choose to join a variety of after-school art clubs. During Year 6, following assessment, pupils are invited to join our Art Scholarship group, providing an accelerated programme offering scholarship award opportunities to senior Schools at 13+. Well over 70 scholarships have been awarded during the last ten years. A selection of our pupils' artwork may be found in the Art Gallery and on our Heath Mount Art Instagram page @heathmountart.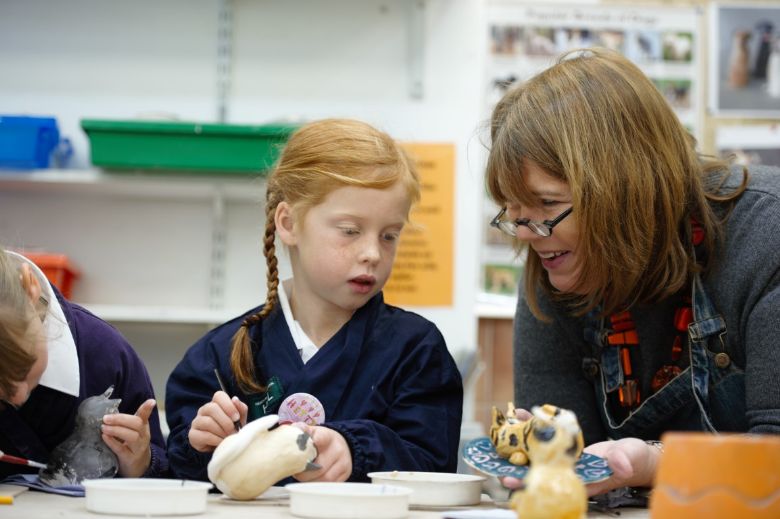 Pupils' artistic skills are highly developed; pieces produced by older pupils are not only technically assured but show a sensitivity and maturity beyond their years...the school is extremely successful in encouraging the pupils' creativity and, most importantly, ensuring that they find a real sense of enjoyment and satisfaction in such activities.
One of Heath Mount's best attributes is its art department, housed in a network of bright basement rooms. If it charged to tour the Modigliani-inspired self portraits, ceramic collections and textile homages to Zandra Rhodes exhibited on our visit, you'd think it money well spent.

The Good Schools Guide
To see the Art Curriculum Map for the Michaelmas Term 2022 click here.