Music is a vital part of life at Heath Mount and an area in which we have gained national recognition. With a variety of different teaching and learning styles, we engage and inspire pupils to develop a love of music. The music curriculum encompasses a broad range of topics and composers, and caters for the musical needs of all pupils with an equal emphasis on performance, composition and general musicianship. See some performance highlights and instrumental lessons on offer in our Music Gallery
Pre-Prep
Music lessons aim to establish the pupils' experience of enjoyable and satisfying music making through movement, singing and playing percussion instruments. We explore the elements of music in a variety of technical and creative games, most importantly introducing pitch, pulse and rhythm, as well as exploring instruments of the orchestra. Pre-Prep pupils receive two academic music lessons and one singing session per week, and perform in a variety of high quality shows and assemblies.
Prep School
Practical and aural activities are supported by theoretical understanding and active participation is encouraged; pupils can often be found playing on their own instruments in class, putting into practice their musical understanding, improvisation skills or score reading. All pupils are taught basic skills on musical instruments and develop their understanding of music theory through practical activities in curriculum lessons so that, by the end of their journey at Heath Mount, they are creative and confident young musicians.
To see our Music Curriculum Map for the Michaelmas Term Click Here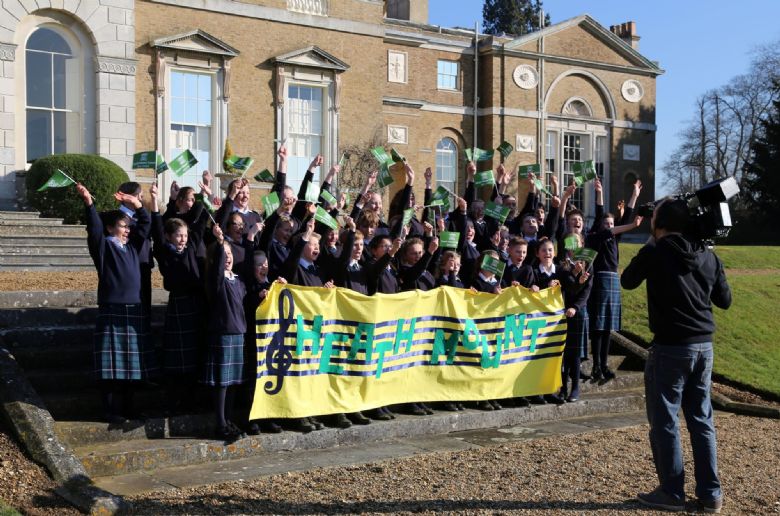 Choirs
Heath Mount pupils have a passion for singing, and our choirs perform to an extremely high standard, gaining acclaim in national and international competitions. There are opportunities for pupils at all ages through membership of one of the five School Choirs:
Pre-Prep Choir (Year 1&2)
All children are welcome to take part. We rehearse before school, one day each week. Children learn the foundations of good vocal technique and basic part singing as they prepare for concerts and performances.
Woodhall Choir (Year 3&4)
The weekly rehearsal for this all-inclusive, compulsory Choir is built into the school day, providing all children with choral and performing experience at School events and concerts. They learn a variety of music which captures their enthusiasm and they often incorporate some dynamic choreography.
Chamber Choir (Year 5 to 8)
This inclusive Choir rehearses twice each week, before and after school, and choristers develop their part singing and aural skills whilst learning fun and engaging repertoire. Performances include our annual Christmas Carol Service at Haileybury Chapel and the magnificent Heath Mount Summer Concert, which showcases their achievements.
Bax Choir (by audition)
Bax Choir is made up of our most experienced Choristers who were praised by Songs of Praise Choir of the Year judge Russell Watson for their 'technical brilliance' after their mesmerising performance in the 2019 Final. This large Choir rehearse twice weekly before school and offers the chance to sing exciting repertoire, often in many parts. The Choir has performed at some of the UK's foremost concert halls such as The Albert Hall, The Royal Festival Hall and the at the Eisteddfod in Wales and has toured abroad on many occasions including Rome - where they performed at the Vatican - Vienna, Barcelona, Berlin and Tuscany .
The choir has achieved many accolades:
Winner Children's Choir of The World at the prestigious Llangollen International Eisteddfod 2019.
Winner Folk Children's Folk Choir Competition Llangollen International Eisteddfod 2019.
Finalist in the BBC Songs of Praise, Young Choir of the Year in 2019.
Finalist in the Barnardo's National Choral Competition in 2019 and 2022.
Winner BBC Songs of Praise Young Choir of the Year in 2012.
Bax Consort (by invitation)
Singing for School services and concerts alike, this smaller group of around 20 children work at an advanced level, rehearsing before school once each week. Repertoire covers a variety of styles and Choristers thoroughly enjoy coming together to learn challenging harmonies and exposed parts. All members of the Bax Consort also sing in the Bax Choir
Concert Programme
We have many musical events during the year. These events range from informal Class Concerts, Rush Hour Concerts, Scholarship Recitals, Showcase Concerts, Assemblies, Musical Productions, School Services as well as outreach performances in the local community, external festivals and competitions, and a School Carol Service at Haileybury Chapel.
Instruments
Pupils are encouraged to have instrumental and/or vocal tuition due to the cognitive, social, health and educational benefits to the child. Private lessons are provided by specialist teachers and the range of instruments is impressive including: Voice, Piano, Guitar, Violin, Viola, Recorder, Cornet, Flute, Saxophone, Oboe, Cello, Percussion, Clarinet, Double Bass, Trumpet, French Horn, Baritone, Trombone, Tuba.
To help children make the decision as to which instrument to learn a series of instrumental demonstrations are given to Year 1 and 2 by the Visiting Music Teachers.
Almost three-quarters, 70%, of pupils take up a musical instrument; many learn two, three or even four. Instrumentalists are encouraged to take part in one or more of the flourishing instrumental ensembles on offer.
Children in Year 1 all have the option to learn the violin in a group lesson. In Year 2 pupils have the option to learn the violin, recorder, cornet or baritone in a group.
Prep School
Individual Music lessons are rotated so that children do not miss the same lesson each week. Children who learn more than two instruments have one of their lessons outside of academic time, in a fixed slot.
We encourage children to undertake practical and theory examinations as they increase in confidence and ability and offer free clubs in music theory to prepare them. We offer Associated Board (ABRSM) examinations at Heath Mount and can enter pupils for other examination boards at external centres. Fees apply
Ensembles
There is a vibrant extra-curricular programme which ensures that children benefit from the valuable experience of collaborating and performing with their peers.
We offer Junior Orchestra, Senior Orchestra, Junior Strings, Senior Strings, String Septet, Jazz Group, Concert Band, Wind Band, Percussion Group, P-bone Group and Guitar Group.
Rehearsals take place before and after school or during morning break, and students benefit from coaching from professional full time and visiting specialists. Parts are adapted to suit every level of player and pupils are encouraged to join an ensemble as soon as possible, often after just a few instrumental lessons.
Music Theory Club & Scholarships
This extracurricular club prepares children for the ABRSM Theory Examinations. An enrichment programme is also available for those pupils who wish to undertake music scholarships. Pupils achieve high marks in practical examinations, many at high grades for their ages, and regularly gain music scholarships to their senior schools.
Facilities
The facilities for music at Heath Mount are excellent with 8 spacious new practice rooms in the recently renovated Music Block. There are two large teaching and rehearsal rooms, including the impressive Music Room in the main building. The School owns a number of orchestral instruments which can be hired by the pupils, in addition to 14 pianos (3 grand), an electric organ, a spinet and a vast array of classroom percussion.